Genus
Bucephalandra See All Search Site
Species
(not known)
Trade Names
201706-BP5
Taxon Family
Araceae
Origin of Taxon
Borneo
Growth Habit
Clumping, Groundcover, Lithophyte, Mat-forming, Rheophyte, Rhizomatous
Images
Description
This is, without a doubt, one of the most stunning and magnificent Bucephalandra I've ever owned (or even seen!)
The foliage is iridescent, with blue, teal, and purple casts, a gorgeous texture, undulate margins, and a raised midrib.
The colors and iridescence change depending on the viewing angle, and become more saturated in dim light (as with most plants which have iridescence).
Culture info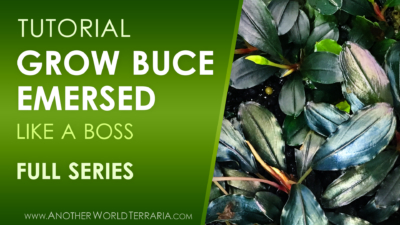 Some of the links on this page may be affiliate links, which means if you click one and then make a purchase, I get paid a small commission (at no extra cost to you), which helps support the cost of running this site. You can relax knowing that I only post affiliate links for products that I myself use, like, and recommend (unless otherwise noted).
Where to Buy
References
Categories
Plant Database Profile
Tags
More Helpful Stuff