Genus
Bucephalandra See All Search Site
Species
kishii
Form
Green
Trade Names
Skeleton King
Taxon Family
Araceae
Origin of Taxon
Borneo
Growth Habit
Rosette
Images
Description
This medium-sized Bucephalandra species typically goes by the trade names "Skeleton King" or "Achilles."
It is a robust plant which creates a rosette of leaves that are held slightly upward and outward.
The foliage is stunning, with reddish petioles and prominently raised leaf veins that look like ribs – most likely the reason for the "Skeleton King" trade name.
There are various color forms which range from shades of green to almost black.
The inflorescences are held above the leaves on a pink stalk, with a white or pinkish spathe and cream-colored spadix.
As with most Bucephalandra, this plant needs high humidity and a lot of water. It is a facultative rheophyte, meaning that it is capable of growing submerged for periods of time in response to raising water levels.
Bucephalandra Care and More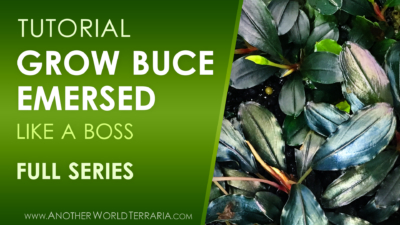 Some of the links on this page may be affiliate links, which means if you click one and then make a purchase, I get paid a small commission (at no extra cost to you), which helps support the cost of running this site. You can relax knowing that I only post affiliate links for products that I myself use, like, and recommend (unless otherwise noted).
Where to Buy
References
Categories
Plant Database Profile
Tags
More Helpful Stuff