This tutorial will teach you how to create a DIY hanger bar for a grow tank, which allows you to easily hang mounted plants. In addition to the step-by-step tutorial, you'll see numerous examples to get your creative juices flowing.
For privacy reasons YouTube needs your permission to be loaded. For more details, please see our
Privacy Notice
.
I Accept
Some of the links on this page may be affiliate links, which means if you click one and then make a purchase, I get paid a small commission (at no extra cost to you), which helps support the cost of running this site.
More info.
In this video and article
Numerous custom plant hanger bar example photos, before and after
Checklist of tools and materials
Step-by-step tutorial
In this video I show examples of two plant hanger bar designs I've made for my grow tanks. They are used to hang mounted epiphytic plants and vines. These examples will help you understand what the hanger bar is, how it works, and should get your creativity jump-started for your own custom projects.
There are many benefits to these bars, including:
the hooks on your plant mounts will be internal in the tank, as opposed to hanging over the tank rim. This allows a better seal on the tank to maintain humidity. It also makes it much easier to manage the plants (see below)
your hanging mounts should slide easily along the bar, allowing quick adjustments to be made to the hanging plants
it's easy to swap positions of plants
the bars are lightweight, compact, long lasting, and easy to clean
they are inexpensive and relatively easy to make
Don't have a hanging mount yet?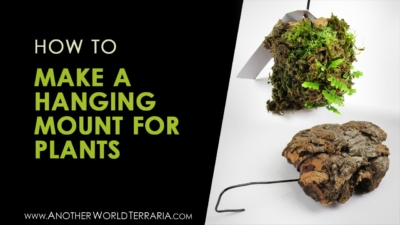 Let me know if you have any questions about anything in this tutorial.
If you found the article and video helpful, please consider clicking a share button below to spread the word to your friends and fellow hobbyists.